ResortQuest employs daily beach photos and weekly guest interviews to provide an accurate picture of current conditions on Northwest Florida's beaches. Temporary adjustments to the company's cancellation policy help alleviate visitors' concerns and encourage continued tourism along the Gulf Coast.
Fort Walton Beach, FL | May 12, 2010 — Standing on the shoreline of Northwest Florida's Emerald Coast, a vacationer named Deborah beams, "It's the epitome of the best beach! It's solid white sand." Next to her, her husband Mike admits, "We had thought of canceling and decided it's best to come. I'm so glad we did."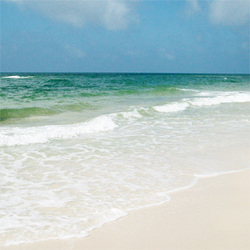 Perdido Key, FL - Beach Photo
That's a spirit Northwest Florida hopes to see from more travelers. Without a drop of oil on the beaches or a hint of a slick on the water, Gulf Coast businesses—from restaurants to retailers to charter fishermen—are struggling needlessly. More than any actual disaster, it's false perceptions and fear of the unknown keeping visitors away from Gulf Coast beaches. But, at least one major company is taking positive steps to stem the flow of tourism out of the state.
ResortQuest, the largest vacation rental management company on the Gulf Coast, has undertaken a mission to educate potential guests about the actual condition of Northwest Florida's beaches. "We want to get the truth out there. Guests need to know that our Gulf Coast beaches are as pristine as ever," says Cheryl Spezia, vice president of marketing for ResortQuest. "The beaches are still white. The waves are still their trademark emerald green. It's beautiful here."
As part of that mission, ResortQuest sends out teams daily to capture beach photos, ensuring that guests have an accurate picture—literally—of how the beaches really look along the stretch from Gulf Shores, AL to Panama City Beach, FL. The numerous pictures are then updated each day on ResortQuest's Current Beach Photos Web page. Several times a week, ResortQuest's teams also videotape interviews with real vacationers on the beach, like Deborah and Mike.
Going beyond the security that such photographic evidence can provide, the company has extended additional peace of mind to customers by making temporary adjustments to their cancellation policy. Dubbed "Worry-Free Reservations," the temporary policy amendment states that if beaches are closed to the public due to the oil spill during the dates of a guest's stay, ResortQuest will refund their money, less a nominal reservation fee. ResortQuest has always allowed their guests to change their vacation dates or switch to another ResortQuest location.
"We wanted to ease guest concerns and offer a solution," states Lino Maldonado, ResortQuest vice president of operations. "Our temporary policy change is a step in the right direction. We can't take away all their concerns, but we sure want to do our best."
To view ResortQuest's up-to-date beach photos and video interviews, visit http://www.ResortQuestNWFL.com/beach-photos.htm.
For more information about ResortQuest, visit http://www.ResortQuest.com. Or, contact Cheryl Spezia at 850-362-4008 or toll-free at 800-862-4853.
Headquartered in Fort Walton Beach, Fla., ResortQuest is the largest marketer and management company of vacation condominiums and home rentals in the nation, with a portfolio of nearly 7,000 U.S. vacation rental properties. With partner affiliates in North America and Europe, ResortQuest offers more than 100,000 vacation rental options in over 140 destinations worldwide.