The Vacation Treasure Hunt contest gives participants the opportunity to win a 5-night stay in one of ResortQuest's luxurious beach vacation rental properties. The company has awarded $64,000 worth of vacation rental stays so far in 2010 and plans to give away another $30,000 in vacation stays throughout the rest of the summer.
Fort Walton Beach, FL, July 2, 2010 — School is out, Memorial Day barbecues have come and gone, and the summer travel season is shifting into high gear. Spurred on by sunny weather and warm temperatures, savvy vacationers are out hunting for the best travel deals, and many have set their sights on ResortQuest's
Vacation Treasure Hunt contest
.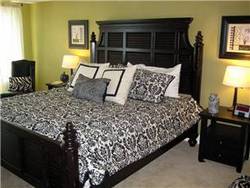 Mariner's Watch Villa - Kiawah, SC
Offered by
leading vacation rental management company, ResortQuest
, the Vacation Treasure Hunt is a weekly online contest that gives participants the opportunity to win a five-night stay in one of ResortQuest's luxurious beach vacation rental properties—a condo, villa or vacation home in Hilton Head, Isle of Palms, Kiawah Island, Seabrook Island or Myrtle Beach, S.C.; Bethany Beach, Del.; Ocean City, Md.; Orange Beach, Gulf Shores or Fort Morgan, Ala.; or along the Florida Panhandle—for just $1 per day. A new contest starts each Tuesday at 2 p.m. EDT, with the promotion continuing weekly through September 28.
Between its earlier ski-oriented version and the current beach-themed contest, the company already has awarded $64,000 worth of vacation rental stays so far in 2010. With the average weekly value of its beach prizes nearing $2,000 each, ResortQuest aims to give away another $30,000 in vacation stays throughout the rest of the summer.
The largest Vacation Treasure Hunt prize to date was a stay at a private beachfront home in Hilton Head valued at $4,300, won by Laurie A. of New Albany, Ind. When asked about her experience with the contest, Laurie says, "I can't tell you how absolutely thrilled—elated—I am." In fact, she was so stunned by her win that she often goes back to check the Web page that lists her name as a winner "to look and see if it's real." Laurie plans to spend her vacation in the professionally decorated, six-bedroom home with her husband, celebrating their 15th wedding anniversary.
James S. of Gilroy, Calif., won one of the most recent weekly contests, in which the prize was a five-night stay in a luxury villa overlooking the George Fazio golf course at the prestigious
Palmetto Dunes Resort on Hilton Head Island
. This week, Dan L. of Rockville, Md. won a vacation stay in a million-dollar oceanfront condo at
Ocean Blue Resort in Myrtle Beach, S.C.
—a prize worth more than $2,500.
Kenneth M. of Southborough, Mass., won a vacation valued at $2,800—a five-night stay at a platinum-rated villa with full ocean views at
Mariner's Watch on Kiawah Island, S.C.
When Kenneth realized he was close to winning the contest, the technology consultant excused himself from a business call. "I had to ask if I could call them back," he says. Now, he's looking forward to getting away from the computers to relax with his wife and four-year-old son on the beach.
A winner from Madison, Ala., Jennifer H., will travel up the east coast to Delaware for her prize vacation. Valued at $2,500, Jennifer's prize is a stay in a platinum-rated condo overlooking a half-mile of private guarded beach at
Sea Colony Resort
, hailed as "The Premier Family Beach and Tennis Resort Community."
"Part of what has made the Vacation Treasure Hunt such a successful promotion is the quality and high value of the vacation rental prizes we're awarding," says Cheryl Spezia, vice president of marketing for ResortQuest. "Combine that with the fun and challenging puzzles we release each week, and it's no wonder the contest is a hit."
To participate in the contest, treasure hunters navigate through ResortQuest's beach-destination Web sites, solving clues and searching for a hidden treasure map icon. The treasure map reveals a toll-free number and promotion code needed to call and claim the prize.
To learn more about the contest rules and how to participate in ResortQuest's Vacation Treasure Hunt, visit
VacationTreasureHunt.com
.
For more information about ResortQuest, contact Cheryl Spezia at 850-362-4008 or toll-free at 800-862-4853.
Headquartered in Fort Walton Beach, Fla., ResortQuest is the largest marketer and management company of vacation condominiums and home rentals in the nation, with a portfolio of nearly 10,000 U.S. vacation rental properties. With partner affiliates in North America and Europe, ResortQuest offers more than 100,000 vacation rental options in over 140 destinations worldwide.