Popular Vacation Treasure Hunt promotion set to end September 28. Only four weekly contests remain.
Fort Walton Beach, Fla., September 7, 2010 – As the fires of their Labor Day barbecues die down, many Americans mark this past holiday weekend as the unofficial end of summer. But, eager summer-seekers don't have to give up that feeling of freedom just yet, as
leading vacation rental management company ResortQuest
is offering four final opportunities to
win a luxury beach vacation
for just one dollar per day.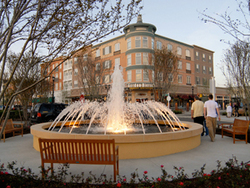 The company's popular
Vacation Treasure Hunt online contest
that began this past spring will continue for just four more weeks, with the final contest taking place on September 28. Each week, contest participants navigate through ResortQuest's beach-destination Web sites, solving clues and searching for a hidden treasure map icon. The treasure map reveals a toll-free number and promotion code needed to call and claim the prize. A new contest starts each Tuesday at 2 p.m. EDT.
ResortQuest plays it close to the vest when it comes to the actual prize, revealing the winner's vacation destination only on the day of the contest… but the award never fails to impress. Winners stay in one of ResortQuest's luxurious beach vacation rental properties--a condo, vacation home or hotel suite on the Florida Panhandle, Alabama's Gulf Coast, South Carolina or Delaware.
While there's no word yet on what the next four prizes will be, the awards so far have ranged from stays at upscale ocean-view condominiums valued at more than $1,000 to a five-day vacation in a private beachfront home on Hilton Head Island worth $4,300. Sometimes ResortQuest even throws in a bonus prize as well, such as a free dinner or the recently awarded Beer Lover's Package, which included a beer sampler and a growler to go. And, anytime the prize is a stay at a beach resort, all the resort amenities are included.
"Our 'Treasure Hunters' have been on a roll all summer, and we're not ready to shutter this travel season just yet," says Cheryl Spezia, vice president of marketing for ResortQuest. "As the end of the contest approaches, we want to get the word out that four big prizes are still to be won. We're encouraging everyone to jump in and have a great shot at winning one of these last beach vacations from ResortQuest."
To learn more about the contest rules and how to participate in ResortQuest's Vacation Treasure Hunt, visit
www.VacationTreasureHunt.com
. Contestants are also encouraged to become fans of
ResortQuest on Facebook
or to follow
ResortQuest on Twitter
to get contest reminders and instant updates each time a new Treasure Hunt clue is released.
For more information about ResortQuest, contact Cheryl Spezia at 850-362-4008 or toll-free at 800-862-4853.
Headquartered in Fort Walton Beach, Fla., ResortQuest is the largest marketer and management company of vacation condominiums and home rentals in the nation, with a portfolio of nearly 10,000 U.S. vacation rental properties. With partner affiliates in North America and Europe, ResortQuest offers more than 100,000 vacation rental options in over 140 destinations worldwide.
###